Just set up a new email group in Microsoft 365 to receive the enquiries from my website. The group showed up in my Desktop client straight away and when I sent a test email the group showed 1 unread mail. But, Alas & Alack! The email itself wasn't in the inbox. When I looked in the mail box from the web client the email was there for me to read, no problem!
A bit of googling turned up lots of postings about the group not showing but nothing about missing emails. After a frustrating 30 or 40 minutes fishing around inside Outlook, I stumbled on the answer.
If you have the same problem here's how I fixed it.
Select the group you want to see from the Groups list in the left hand navigation pane.
Select 'View' from the top menu
Select 'View Settings' & the Advanced View Settings dialog pops up
Click the 'Filter' button & the Filter dialog pops up
Click the 'Clear All' button (Bottom Right)
Click 'OK' & the dialog closes
Click 'OK' in Advanced View Settings dialog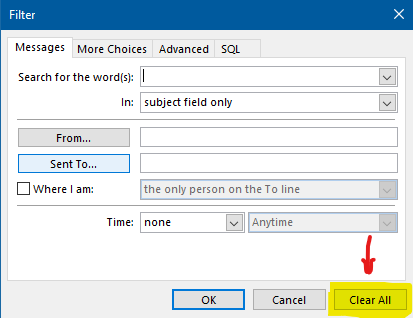 The emails should now appear in the the group inbox.
There were no filters shown as being set in the first place so, I really don't know what was going on under the hood…